Creator:
CountessVamp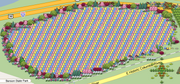 Location: Benson Recreation, OR (current drop point)
Contributors: CountessVamp, Bigbear766, VitaminD, Ullr, Alforque, Kathleen, Blue, LuckyLapine, VelmaDinkley, AstroPig, Andrew, TempestDark, Westsider, IDrinkGaso, Sean, Leeroy, RollerJones, Wiki, Meagan, Diana, Alex, Foamy, Bud, Uberzombie, Basil, NoGftsPls, Jean
Total Peeps: 1451 in the Lake + 2 by the Fire pit
Blue: 484 in Lake + 1 by Fire pit
Yellow: 483 in Lake + 1 by Fire pit
Pink: 484
Ad blocker interference detected!
Wikia is a free-to-use site that makes money from advertising. We have a modified experience for viewers using ad blockers

Wikia is not accessible if you've made further modifications. Remove the custom ad blocker rule(s) and the page will load as expected.