Location:
VAB, FL (Vehicle Assembly Building)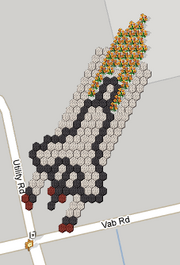 Creator: Basil
Contributors: Basil, VampzillaH
Creator Notes
Edit
At the time of this posting, 2 more launches are scheduled, one in April (Endeavor) and one in June (Atlantis), after which yours truly will likely be available for other employment. Hope you enjoyed it, I know I did. Warning Blast Zone! Welcome to the Space Shuttle (full stack) Flecktion by Basil @ "VAB, FL" with special thanks to VampzillaH for the encouragement.
Ad blocker interference detected!
Wikia is a free-to-use site that makes money from advertising. We have a modified experience for viewers using ad blockers

Wikia is not accessible if you've made further modifications. Remove the custom ad blocker rule(s) and the page will load as expected.